Architect - Rolfe Judd / Contractor - Kier London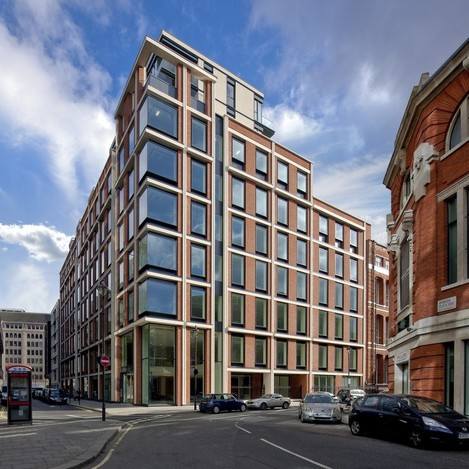 (click image for more project details via One Howick Place)
Another of our larger scale projects, the huge amount of refurbished office space at One Howick Place located in Victoria, London, gave us plenty to ponder as we were awarded a series of design elements of the building facade from our client. With a key consideration of the client being sustainability and minimising the buildings effect on the environment the specifications were high for this job and we feel extremely proud to have played a part in the successful delivery of such a project.
During the design process we covered various areas including large elements of capped & SG curtain wall, glazed in doors & windows, punch hole doors and windows, pressed aluminium copings, rainscreen & soffit cladding alongside some bespoke design solutions for the floor to ceiling main entrance screen, revolving & pass doors.
Starting off the project initially as assistance to our client with fabrication drawings we were soon offered the opportunity to get invoved in the design process, generating general arrangement & detail drawings for many of the elements mentioned above. With the intricate aluminium window surrounds and the extremely large and weighty double glazed units being used there was a lot of coordination both with other trades but also with the structural engineers - just another part of the service you can expect from us here at J.P Specialist Glazing Design Ltd.
Systems Utilised
Schuco FW50+ & FW60+ capped & SG curtain wall / Schuco AWS 65 & ADS 65 windows & doors / Bespoke design aluminium rainscreen, coping & soffit cladding.